Malpensa Airport…
"Welcome": not just a name but a friendly hotel only 20 minutes from Milano Malpensa airport
Lombardy's Milano Malpensa airport is so famous it needs no introduction. Sure enough, it is one of Europe's, as well as Italy's, leading airport hubs, second only to Roma Fiumicino airport for number of passengers , but unbeatable when it comes to cargo.
It includes three terminals:
Terminal 1
Reserved to domestic, international and long-haul flights. It is also connected to Milano Cadorna (trains running approx. every 30 minutes) and to Milano Centrale stations (approx. each 45 minutes) by a dedicated route.
Terminal 2
The charter and low cost flights terminal.
Cargo City
The goods-handling terminal; as previously pointed out, Milano Malpensa airport's Italian excellence.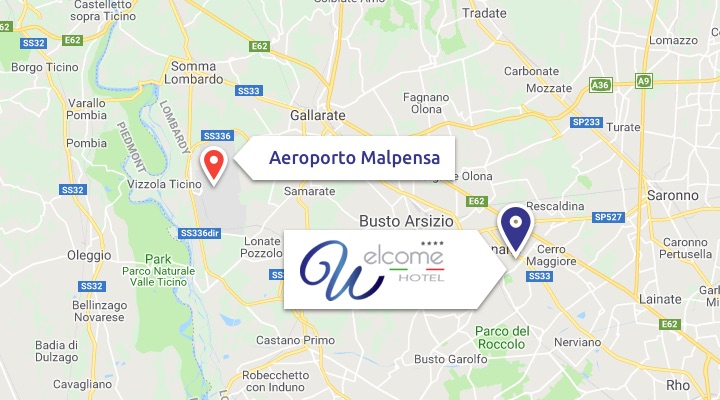 How it all started
It is said that, back in the early 1900s, a small aviation camp was set up on a farm situated in the Somma Lombardo area, more precisely in the hamlet of Malpensa, for testing new prototypes. Years went by, and the runway was enhanced, taking on military purposes: the cause of the devastation performed by the German army withdrawing at the end of World War II.
Subsequently, highly motivated local entrepreneurs chose it as the symbol of their industrial rebirth. Their effort was so successful that the first direct flight to New York took off as early as in 1950.
Welcome Hotel Legnano in Legnano is perfect for your flights and for boarding in Malpensa: we are just 20 minutes away and we also provide shuttle service on request.
And do not forget our convenient parking options, indoor or outdoor, all included in your room rate.
Milano Linate airport
Of course just one airport, even though huge and well-organised like Malpensa, would have not been enough for such a bustling and industrious area. So, back in the 1930s, another airport project was launched, this time closer to Milan. Nowadays, Linate airport is reserved to short-haul domestic and European flights, as well as to a small group of low-cost airlines.
Hotel Welcome, Legnano, situated right between Milan' s major airports, is extremely convenient also for reaching Milano Linate (approx. 35 minutes).